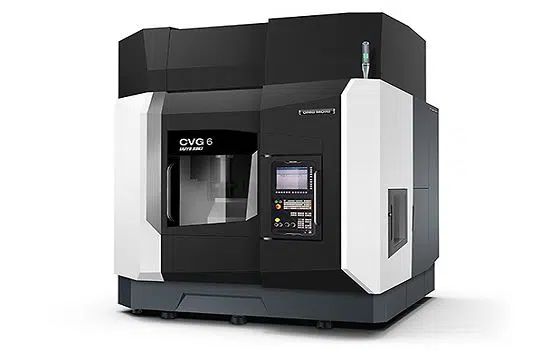 Chicago, IL – Speedgrip Chuck Company, an Elkhart, Indiana headquartered workholding equipment manufacturer, becomes the first United States customer of Taiyo Koki's CVG-6T grinding machine and commence a partnership effective immediately.

Taiyo Koki, DMG Mori owned grinding machine manufacturer, continues to go beyond the conventional concept of the traditional grinding processes since its establishment in 1986. Taiyo Koki's technology is designed to contribute to customer's productivity, improvements and problem-solving at their production site.

"Grinding operations are critical to our mission at Speedgrip Chuck Company," said Kevin Snyder, President of Speedgrip. "The Taiyo Koki CVG-6T will allow us to guarantee more precise tolerances and will increase productivity, enabling Speedgrip to continue providing cost effective solutions to our customers."

Speedgrip, a designer and manufacturer of precision workholding equipment, serves a diverse group of industries where high speed, close tolerance metal cutting is critical to manufacturing operations. Founded in 1946, Speedgrip offers custom and standard solutions for most types of machining operations.

"Speedgrip has long been known for their high precision workholding solutions," said Aniel Ruzzin, National Product Sales Manager at Taiyo Koki. "Their recent purchase of the Taiyo Koki CVG-6T has improved their ability to compete in the precision workholding and tooling market by allowing them to grind all the important faces and diameters in one clamping which guarantees the most accurate squareness and concentricity specifications."

The Taiyo Koki CVG-6T machine allows for grinding ID, OD and face by one-time chucking. With a grinding range of 50mm-600mm (ID grinding range) and a maximum 600mm (OD grinding range), the Taiyo Koki CVG-6T is extremely versatile for multi-process grinding. The productivity enhancing automatic pallet changer, APC, offered reduces non-productive machine time.

For more information on Taiyo Koki please visit www.taiyokoki.com or call 1-800-DMG-MORI.