Quality Tool and Gear Makes Most of New Lathe with Workholding Solution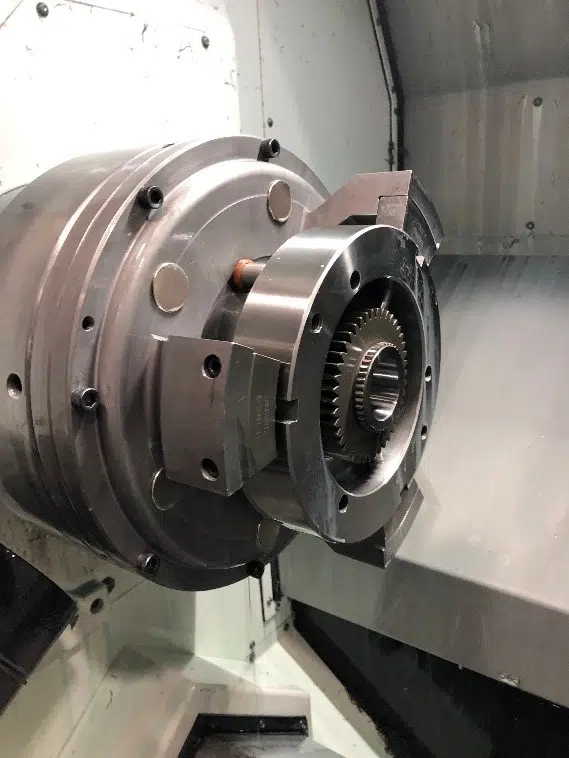 The Speedgrip design B-39461 external diaphragm chuck incorporates several interchangeable pin and ring assemblies that are designed to locate on the pitch diameter of each gear. (Courtesy: Quality Tool and Gear)

MORE INFO www.qualitytoolsandgear.com
With more than 40 years of experience, Quality Tool and Gear in Redford, Michigan, has become known as a leader in the gear industry. It recently purchased a new Mazak QTU-350 CNC lathe to turn its small family of input gears. The new machine made the company more efficient. However, their current method of holding the parts nullified the benefits of the new machine.
Fred Pelle, Vice President, contacted John Kaczmarek of Marathon Industrial Sales. Pelle is the representative for Speedgrip Chuck Company for eastern Michigan. He gathered the necessary data for the Speedgrip engineering staff to design a solution.
The result was Speedgrip design B-39461. With it mounted directly to the machine's A2-8" spindle and connected to the drawtube, operating the assembly was simple and efficient. This special external diaphragm chuck incorporates several interchangeable pin and ring assemblies that are designed to locate on the pitch diameter of each gear. The original chuck was designed to hold five different parts. Quality Tool and Gear has since added three more pin and ring assemblies.
Vice President Angelo Berlasi said, "The biggest improvements this new chuck produced is the reduction in cycle time and the overall quality of the parts. With the chuck locating on the pitch diameter of the gear, it eliminates the need for the operator to indicate the part. This reduced the run time per part by 30 to 60 seconds or more, based on the operator's ability to indicate. The quality of the part improved with the variance in the indicating being eliminated. The chuck also ensures that the spline is within specification. Overall, a more consistent part is provided to the next operation of grinding the gear teeth. Another benefit realized is the ability to reduce the amount of stock left for gear grinding during the hobbing operation. This has reduced the gear grinding cycle time, the grinding wheel wear, and the frequency of dressing the grinding wheel."